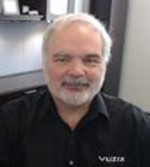 Paul J. Travers
CEO, President and Director
Paul Travers is the founder of Vuzix and has served as our President and Chief Executive Officer since 1997 and as a member of our Board of Directors since November 1997. Prior to the formation of Vuzix, Mr. Travers founded both e-Tek Labs, Inc. and Forte Technologies Inc. He has been a driving force behind the development of our products. With more than 30 years' experience in the consumer electronics field, and 26 years' experience in the virtual reality and virtual display fields, he is a nationally recognized industry expert. He holds an Associate degree in engineering science from Canton, ATC and a Bachelor of Science degree in electrical and computer engineering from Clarkson University.
Grant Russell
CFO, Executive Vice President, Treasurer and Director
Grant Russell has served as our Chief Financial Officer and Executive Vice President since 2000 and as a member of our Board of Directors since April 2009. From 1997 to 2004, Mr. Russell developed and subsequently sold a successful software firm and a new concept computer store and cyber café. In 1984, he co-founded Advanced Gravis Computer (Gravis), which, under his leadership as President, grew to become the world's largest PC and Macintosh joystick manufacturer with sales of $44 million worldwide and 220 employees. Gravis was listed on NASDAQ and the Toronto Stock Exchange. In September 1996 it was acquired by a US-based Fortune 100 company via a successful public tender offer. Mr. Russell holds a Bachelor of Commerce degree in finance from the University of British Columbia and is both a US Certified Public Accountant and a Canadian Chartered Professional Accountant.
Shane Porzio
Vice President Engineering
Shane Porzio has been with the Company for more than ten years and has more than 13 years of experience in architecture of systems and designs for hardware and software. His previous employment was at Lockheed Martin where he served as a Hardware Engineer. Mr. Porzio has BS in Computer Engineering Technology from Rochester Institute of Technology and his MS in Computer Science from Rochester Institute of Technology.